Dentures – Lowell, MA
Masterfully Rebuilding Your Compromised Smile
Missing just one tooth can be pretty problematic; however, when you're missing one or both arches of teeth, not only is the appearance of your smile impacted, but you'll struggle to even perform basic daily tasks like eating and speaking! Here at Simply Dental of Lowell, whether you need complete or partial dentures, or you'd like to go the implant-retained dentures route, our skilled team of professionals is here to create a comfortable, natural-looking restoration that fits your lifestyle and has your confidence soaring! Continue reading below to learn a little more about what dentures in Lowell are capable of doing, or feel free to contact us today to schedule your consultation and get the ball rolling!
Why Choose Soleil Dental for Dentures?
Friendly and Experienced Dental Staff
Comfortable Office with Modern Amenities
Beautiful High-Quality Restorations
Who Is a Good Candidate for Dentures?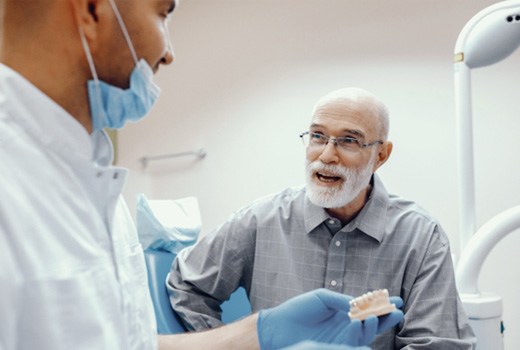 Dentures are remarkably versatile, and they can assist patients who are missing just a few teeth, one, or both arches! To determine if this smile-rebuilding solution is right for you, you'll need to come see us for a consultation. During this session, we can determine which type of denture best suits your needs, as well as if there are any preparatory procedures that need to be carried out first. In some cases, patients with untreated issues like gum disease or tooth decay will need to undergo treatment before they can be outfitted with their dentures; pristine oral health will guarantee your beautiful smile lasts!
Types of Dentures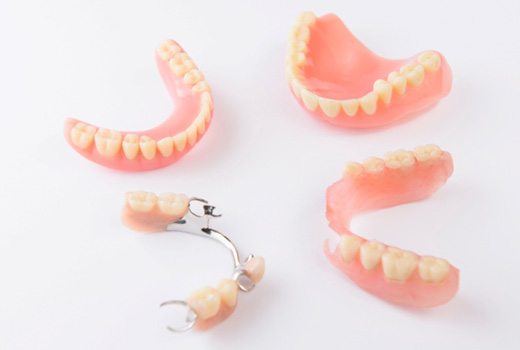 Everybody experiences tooth loss differently, meaning that there needs to be various types of dentures capable of assisting with different situations. And thanks to constant advancements in dental technology, this is very possible—and these solutions are now more comfortable and beautiful than ever before! Here are a few of the options we might recommend for addressing your tooth loss:
Partial Dentures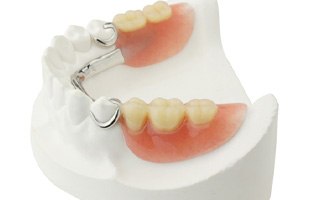 For patients missing several teeth in a row, partial dentures are often suggested. These are created from a gum-colored acrylic base supported by metal and combined with lifelike prosthetic teeth. They're designed to fit around your existing teeth with the assistance of anchoring clasps.
Full Dentures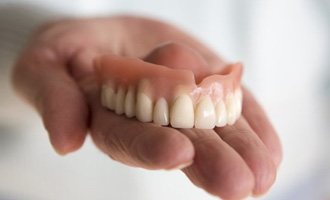 If you're missing an entire arch of teeth, you might be interested in receiving full dentures. Like partials, they also utilize discreet, gum-colored bases; however, they are anchored differently. They rely on a combination of muscle control, suction, and denture adhesives to remain in place.
Implant Dentures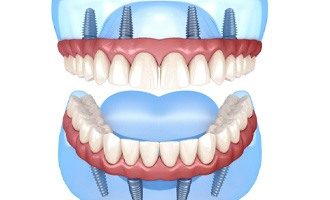 Implant dentures are where traditional dentures meet state-of-the-art dental implants. Instead of keeping your new smile in place through muscle control, clasps, or adhesives, it's attached to special titanium posts that are surgically placed below the gumline directly into the jawbone. That way, you enjoy maximum stability and avoid unwanted movement—not to mention, several other awesome unique benefits!
The Benefits of Dentures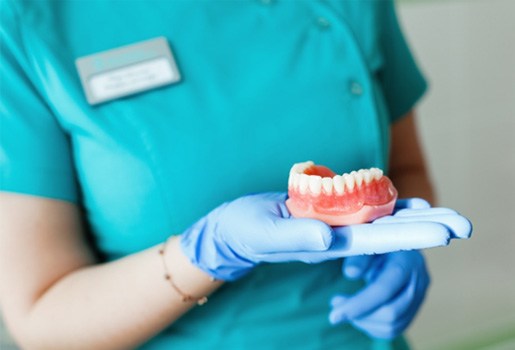 When you opt for dentures, you're unlocking countless benefits that are certain to vastly improve your quality of life! Here are just a few of these notable advantages:
They restore your ability to bite, chew, and speak with ease.
They're customized for your specific smile, meaning they'll look and feel completely natural.
They can last for 10+ years with good maintenance, and they're quite easy to care for!
They're considered very cost-effective.
Understanding the Cost of Dentures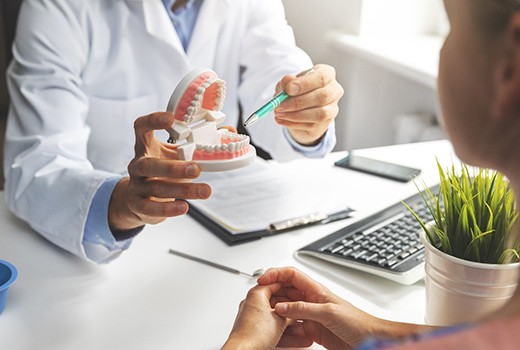 It's natural to have questions about the potential cost of any type of dental treatment, and dentures are no exception—after all, everyone experiences tooth loss differently, so there are several factors at play. Here at Simply Dental of Lowell, our team is happy to take the time to sit down with you and navigate through all the financial details associated with dentures. That way, once it's time to pay for your new smile, you aren't hit with any surprises! Continue reading below to learn more about a few of the factors that play into the overall cost of dentures in Lowell, along with a few ways you might be able to make your treatment more affordable.
Factors That Affect the Cost of Dentures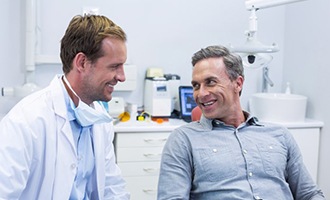 When you receive dentures, you're receiving a restoration that's been designed specifically for your unique smile, meaning that we can't give you an exact cost estimate until you've come in for a consultation! We'll need to inspect your mouth and assess a few different things; certain factors can have a varying influence on how much you end up paying. Here are a few of the things we'll analyze:
The severity of your tooth loss (the number of teeth you're missing, the location of the gaps, etc.)
The materials that will be used to create your dentures. Some common materials used include porcelain and acrylic.
The type of denture you're receiving: partial dentures, full dentures, and implant-retained dentures are all possible options.
Any preparatory procedures that you'll need, such as tooth extractions, periodontal therapy, etc.
Are Implant Dentures More Expensive?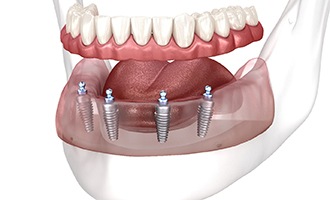 You should know that implant dentures are generally more expensive than traditional dentures, but there's a good reason for this—the price increase is directly reflected in the quality of the restoration you're receiving! Implant dentures rely on dental implants to remain in place, while traditional dentures rely on muscle control, suction, and denture adhesive. Needless to say, this leads to a huge difference in performance and lifespan. Implant-retained dentures do not need to be replaced frequently like traditional dentures, plus they offer numerous unique oral health benefits, making them an enticingly worthwhile and cost-effective tooth replacement solution.
Does Dental Insurance Cover Dentures?
Dentures are often deemed medically necessary for preserving and restoring your oral health—the effects that tooth loss has on one's quality of life are simply too detrimental to ignore! That said, every dental insurance plan is unique and offers different benefits, but many offer a certain amount of coverage for dentures. For instance, after you've met your deductible, your benefits can lower the amount you'll pay for certain steps in your treatment plan, which might include things like the initial consultation, any preparatory procedures you need, or even the dentures themselves. In any case, you should check the specifics of your plan before committing to treatment. Our team would be more than happy to help you with this; finances are the last thing you should have to worry about while trying to restore your smile!
Other Options for Making Dentures Affordable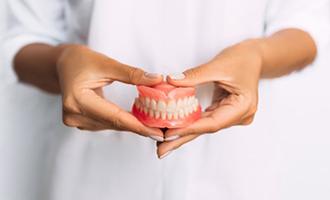 Even if you don't have dental insurance, you aren't entirely out of luck if you want dentures. In addition to working with various in-network insurance providers, we're happy to offer third-party financing through CareCredit, which allows you to enroll in a little-to-no-interest payment plan that'll help you pay for your dentures without straining your bank account. The best way to learn more about how your costs will add up for dentures is to give us a call today; we'd be happy to help you with any questions you have and kick off your dentures journey!